I got some buys when I was out at flea markets and wana show ya guys the makeup looks that I paired with the accessories. Even the cheapest products can look glam too!
Feathers are so in! And can you believe it?! I got these babies at $1.90 at Bead Street, Cineleisure!
I wore a blue maxi dress and had this $6 bracelet I got from a flea market. So Cartier inspired right?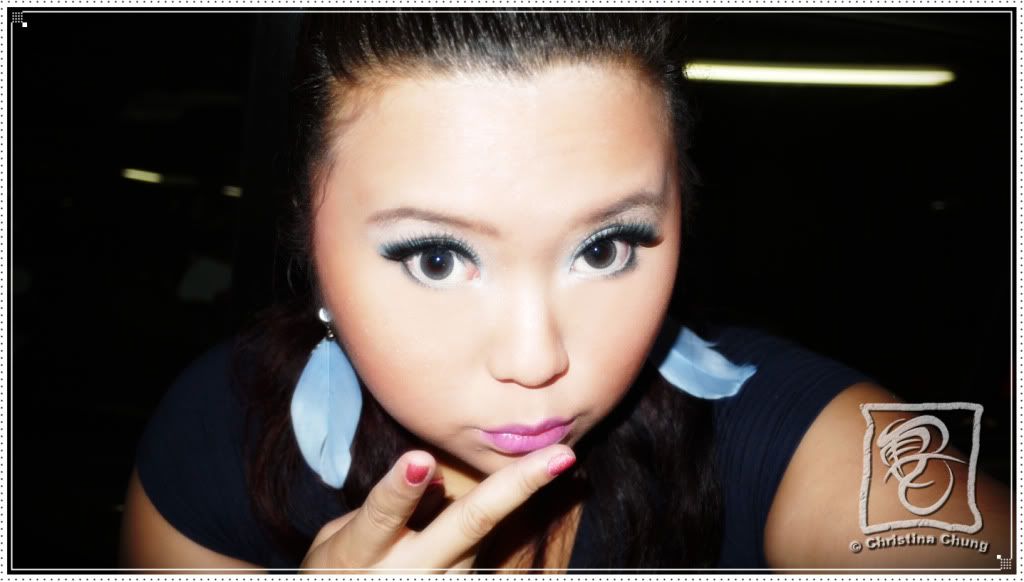 This is the look that I came up with to match my accessories.
You don't have to use expensive makeup for this look. All I needed was this eyeshadow pot from Body Shop. I got it for quite a while already, think it's unavailable anymore, but you can always use other substitutes.
SO sorry, it's cracked. But you can see there's 2 colour. A pale beige and marine blue eyeshadow in one pot.
I did a little drawing to let you guys understand how I achieved the look. I used the beige just below the brow bone, blue from crease to lashes and dabbed a white eyeshadow in the middle for that "Open Eyes" feel. Then, with eyeliner and luscious false lashes, voila! *Remember, blue goes well with pink, just lightly dab some pink blush and pink lipstick to go with your eyes*.
Next up is this amazing Armour ring that I got for $8. Looking so fierce, I had to pair it with something more manly and gave myself a "fiercer" (Quote Tyra Banks) look.
Here's how I got the looks:
From left: M.A.C. Pigment (Melon), M.A.C. frost eyeshadow (Fresh Daisy) and Loreal HIP colour chrome eyeliner (920 Gold Charge)
I have Fresh Daisy at the browbone and Melon pigment all over the rest of the lids and drew the gold eyeliner on my bottom waterline. Top everything with a long winged eyeliner all round the eyes and that's it!
And as you have such dramatic eyes, keep the rest of the face "clean". You can do a light contouring on your cheeks and jawline with an orange or light brown blush/powder and end everything with a nude lip colour. It's just that simple!
XOXO,
Christina aka Huney