Eyeliners are such a must for make-up these days and I bet alot of you girls will be screaming their heads off if eyeliners were removed. And in this warm and humid country of ours, smudgeproof, waterproof eyeliners are in high demand!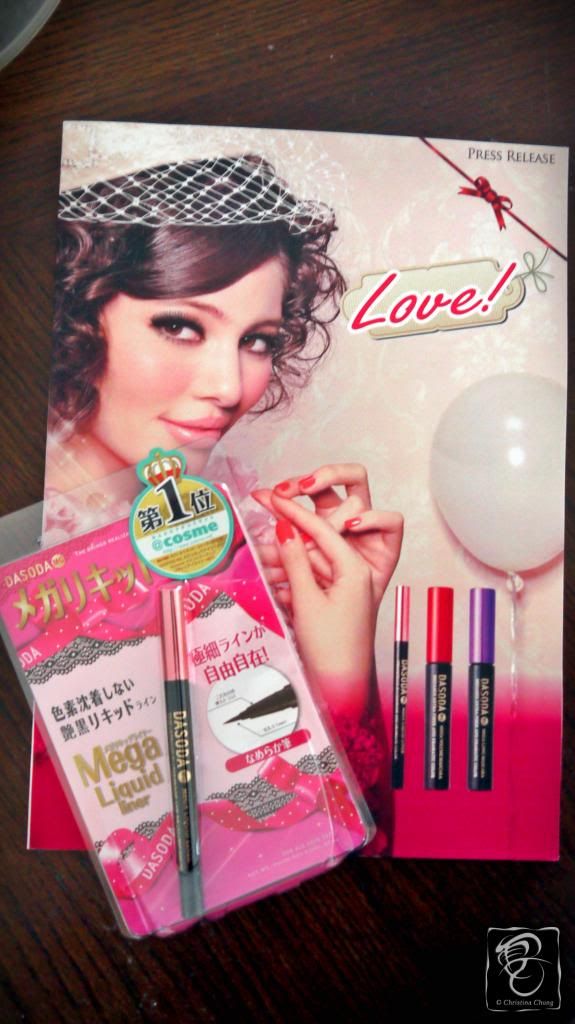 DASODA - a brand from Japan is now available in Singapore's SASA stores. With their MG Mega Liquid Liner, you can create the eyeline you always wanted and have it stay for the day! It's fast drying formula allows you to outline your eyes or draw that thick line without smearing...
The liquid liner is a the blackest black and amazingly, it is easily washed off with facial cleanser. The carbon black ink is free of coal-tar colorants, so that the liquid does not penetrate the skin. But instead, it adheres to your eyelid and comes off when in contact with the facial cleanser.
The lovely people even had a drawing on teaching us how to achieve the perfect eyeliner. I love how the black eyeliner glides on smoothly on my lids and no matter from which direction and how much force I use, the Liquid Liner is super easy to use!
Some other features of the Liquid Liner is:
Repair and Moisturize
This eyeiner combined with moisturizing essence cares for the eye area as you draw a line (moisturizing ingredients: hyaluronic acid, collagen, keratin and panthenol).
Waterproof Formula
Once dried, the water-resistant polymer coats the eye line surface and prevents it from smudging for hours.

Easily Wash Off
Draws a clear thick line and is water-resistant, yet is easily removed with warm water without stressing the eyelids.
DASODA MG Mega Liquid Liner is retailing at SGD $19.90 at SASA Stores (Singapore) exclusively.
XOXO,
Christina aka Huney